Below are of some of my favorite first ascents from around the world.                 This is why I climb; to search out the purest, most beautiful, untouched lines. I associated no grades with any of these problems, because that was the last thing on my mind when I committed to attempting them. My sole purpose, is to climb the most beautiful thing I can find, no matter the size, the difficulty or the dangers.
These are my babies, I hope you enjoy!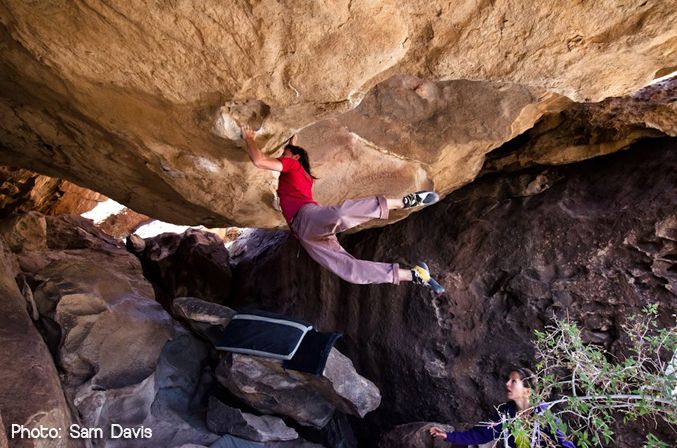 The End- Hueco Tanks, Texas -2013
This problem was tucked away in a corridor high on the East Mountain. One day I hiked from the other side of the mountain to the summit trying to find something new. When I reached the top I new exactly where I was. I had been to the zone before, but never noticed this massive roof. Its interesting how your perspective can change when you don't expect it. A 30 move roof problem on untouched Hueco rock, this is exactly what I was hoping to find. Watch the exclusive video on DPM Stash.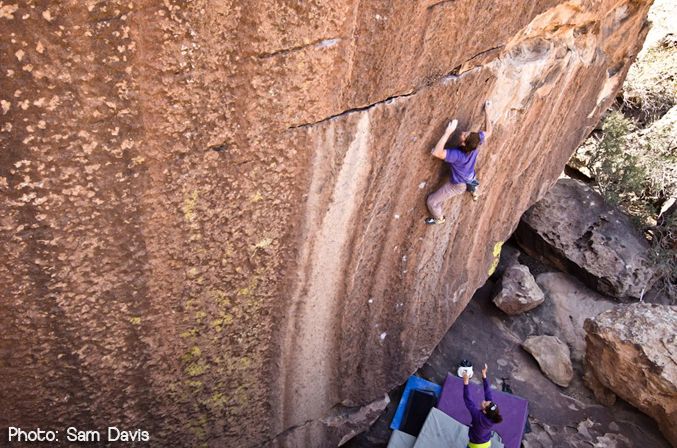 One Eyed Monster- Hueco Tanks, Texas -2013
 I had walked passed this boulder many times and knew one day I had to climb it, but it was insanely tall and falling up high was not an option.  The crux looked to be in the bottom 20 feet and after that just keep it together. My friend Gustavo Moser dropped a rope down it the previous season, and told me it will yield.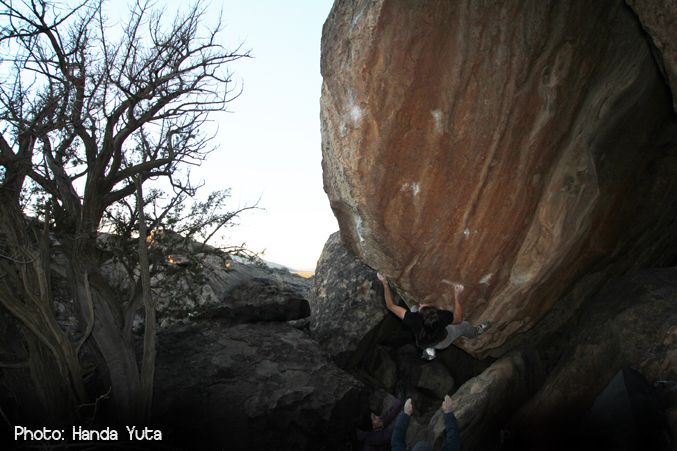 Hand of Time- Hueco Tanks, Texas -2013
 I was hanging out near the Hobbit Boulder on East Mtn with Chris Schulte and we decided to walk around the corner to check out another known project, we took a short cut through a rabbit hole only fifty feet  from a bunch of established problems and it shot us out in front of the massively beautiful arete. We pawed at the holds and thought we must be dreaming and agreed that we had to come back another day with a fresh perspective to make sure.  It was real and made for an amazing boulder problem.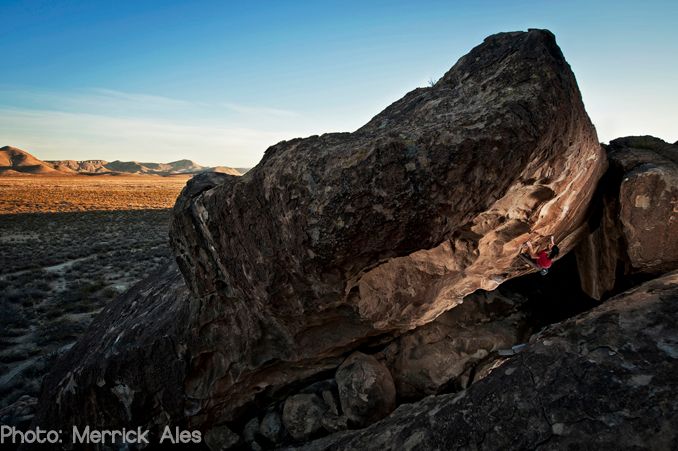 Count to Six and Die- Hueco Tanks, Texas -2012
I had been looking at this line for three years, and the landing which is one of the worst I've ever had to deal with. It was not only physically demanding it was one of the most mentally challenging problems I have established and a fight to the bitter end.  Watch the footage HERE.
The Seventh Circle- Hueco Tanks, Texas -2011
 I have never worked as hard in my life as I had to for this one problem. Three seasons of attempts, an ACL surgery and countless nights laying awake thinking about this amazing roof line. On some of the most solid sculpted rock that Hueco has to offer, and one of the hardest top outs I have ever battled against. The move pictured may look like I'm climbing    in reverse, but its the is the actual beta for the lip encounter and thats just the start of the crux. I probably fell over 25 times from the heart breaking last move. Watch the footage HERE.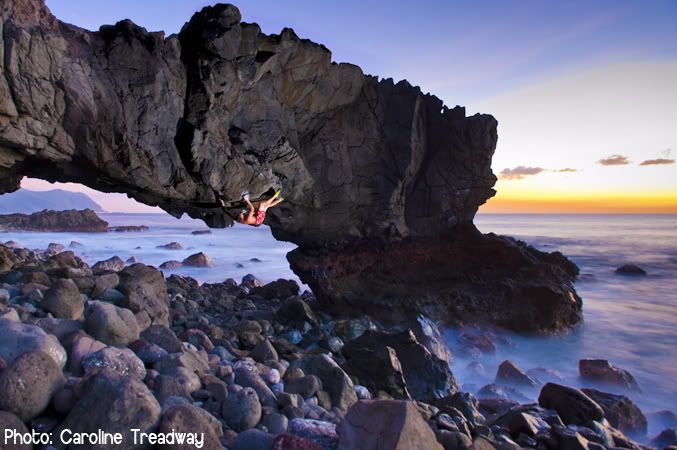 Big Baby Buddha- Oahu, Hawaii -2010
When I first saw images of the arch out at Kaena Point on the northwest tip of Oahu I couldn't believe my eyes. I had heard rumors that the climbing in Hawaii wasent that great, but now I needed to go and see for myself. An old friend from my Maryland days Justin Ridgley had recently moved to the Island and had ben assaulting the arch for weeks. Upon my arrival to the arch, I knew we had a lot of work to do. I was able to pull off this first ascent the first day, but there is much more potential and I cant wait to return. Watch the teaser here, or watch the entire trip HERE.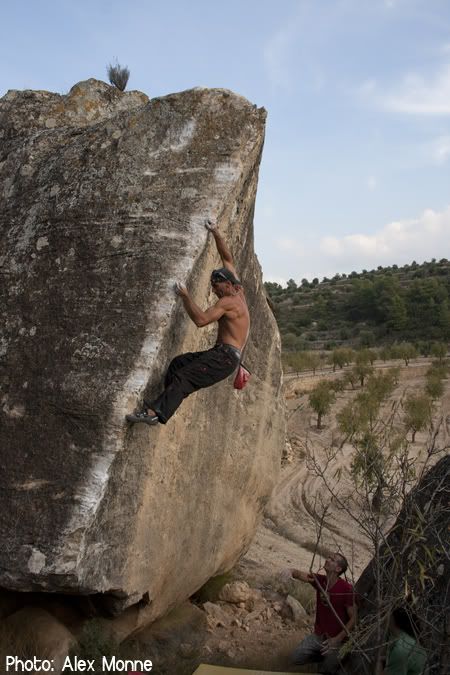 Survival- El Cogul, Spain -2010
This is my Sensei Jordi Salas on the second ascent of Survival. I started climbing  with him back in 1994 at the Clipper City Rock Gym in Baltimore. He is a mesmerizing climber to watch and taught me everything I know about climbing with style. El Cogul is area near his house and whenever I visit he always has some amazing first ascents lined up. Once again he did not disappoint. We had cleaned and worked this perfect sandstone arete together, with back to back ascents. Watch the first ascent HERE.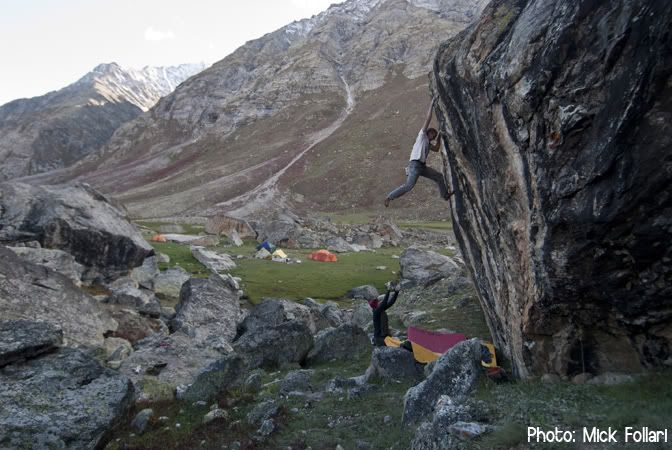 Manali Cream- Miyar Valley, Indian Himalayas -2010
I never really imagined myself traveling all the way to the Himalayas to go bouldering, let alone finding some of the best lines Iv'e done in my life. This was one of the first problems I established in the Miyar a couple hundred feet from our base-camp. Manali Cream is a type of hash that comes from Manali, one of our stopping points on the road to the  Himalayas. This problem can be found on the feature length Zanskar Odyssey.
Lammergeier- Miyar Valley, Indian Himalayas -2010
The Lammergeier is a type of Himalayan vulture with a 10ft wingspan that is found in this region. Often we would see the Lammergeier circling high above the boulders. I named the  problem that because when I first found it, i thought the block was to wide for me to span. After several days of work and a sequence of tricky toe hooks I unlocked the puzzle and established one of the best lines of the trip.                                    This problem can be found on the feature length Zanskar Odyssey.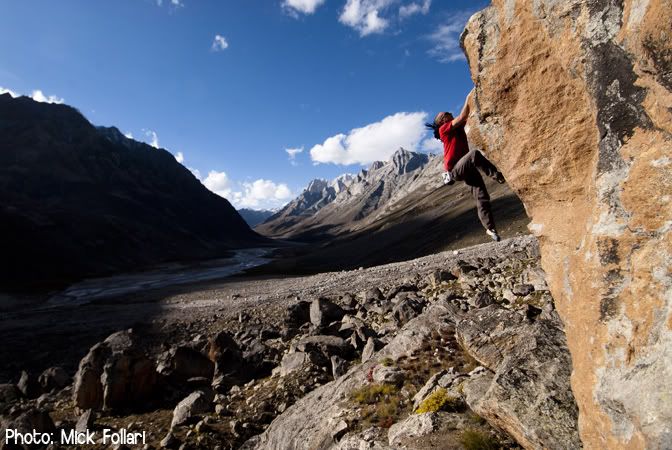 The Obelisk- Miyar Valley, Indian Himalayas -2010
This boulder was basically perched on the top of another 200ft tall boulder in the middle of       an untouched boulder field. The problem itself was great, but the exposure and the view doesn't get much better than that. This problem can be found on the feature length Zanskar Odyssey.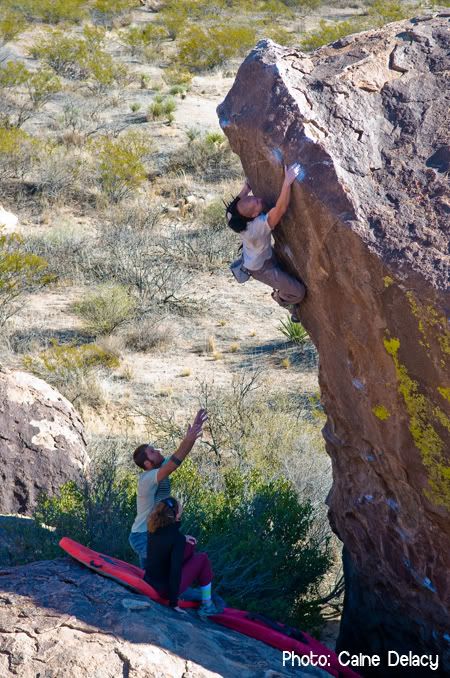 Bold Breathless Heart- Hueco Tanks, Texas -2010
This problem is located to the left of Jingus Bells in the East Spur Maze and is one hell of a ride. I remember this day because I had just painted up my new Revolution pad with a wicked skull and broken crossbones. That was all the incentive I needed, but looking back I dont think I would of landed anywhere near the pads, but more likely the bush.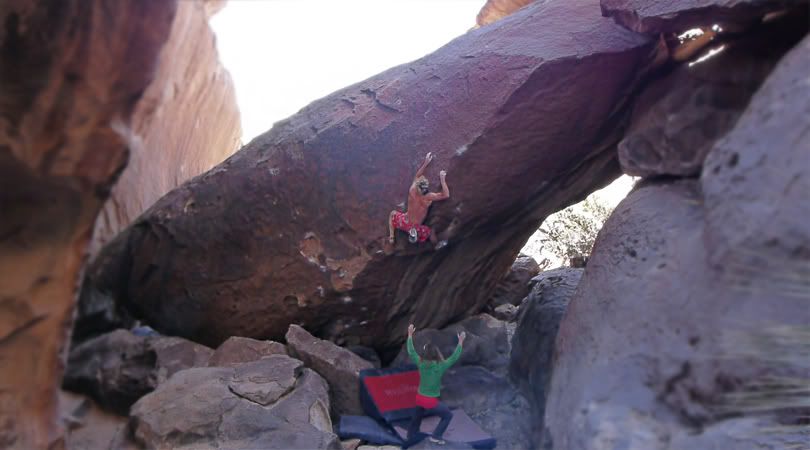 Dune Arete- Hueco Tanks, Texas -2009
This problem is located in the southern most point of the East Spur. Trevor Turmell first established Dune that exits out on to the slab. I thought the arete was a more striking line and had to be climbed. Tall and scary with perfect iron crimps, perfect in my opinion.  Here is the footage of the first ascent.
Bloodline- Hueco Tanks, Texas -2009
One day I was out exploring on North Mountain, weaving my way through dark chasms and hopping over bottomless crevasses. I looked down (probably from the same angle this photo was taken) and saw the most amazing tufa feature I have ever witnessed. I couldn't believe it. I knew I had passed by this way in the past.  How could I have over looked this? I guess sometimes you can only discover things when they are ready to be discovered. Watch exclusive footage of Abbey Smith sending Bloodline on Dead Point Mag.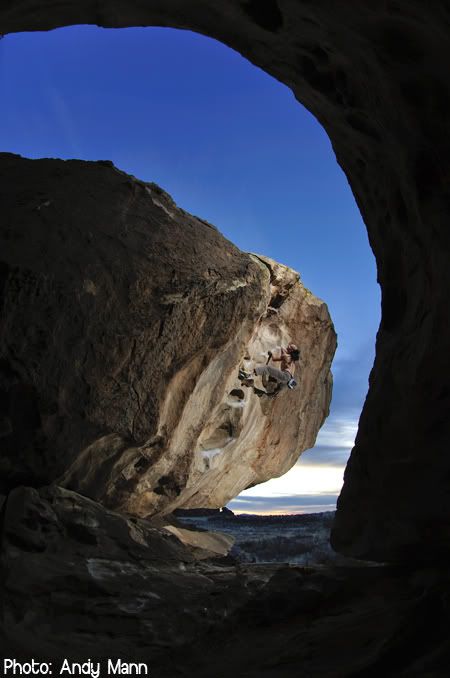 To Die For- Hueco Tanks, Texas -2008
I dont know if anyone has ever died bouldering, but if your going to risk it all for one problem, this it the one. Perfect sculpted huecos create the only line up this massive boulder. Located only 50ft from the mega classic Ghetto Simulator on North Mountain, this problem is a must do for any aspiring highballer.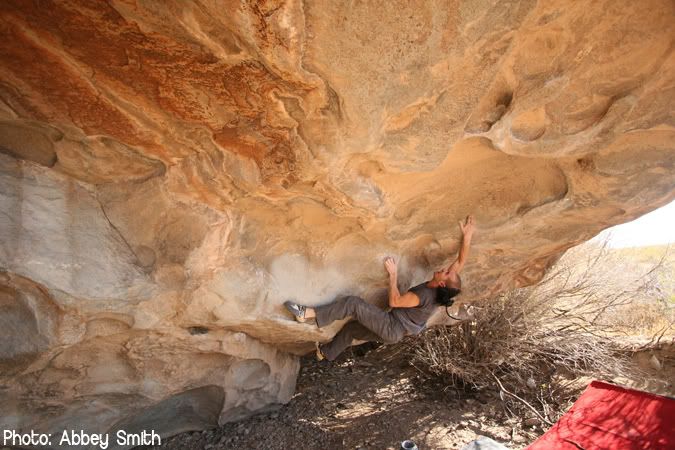 A Single Word- Hueco Tanks, Texas -2008
"For a samurai, a single word is important no matter where he may be. By just one single word martial valor can be made apparent. In peaceful times words show one's bravery. In troubled times, too, one knows that by a single word his strength or cowardice can be seen. This single word is the flower of one's heart. It is not something said simply with one's mouth." Yamamoto Tsunetomo, Samurai and author of the Hagakure.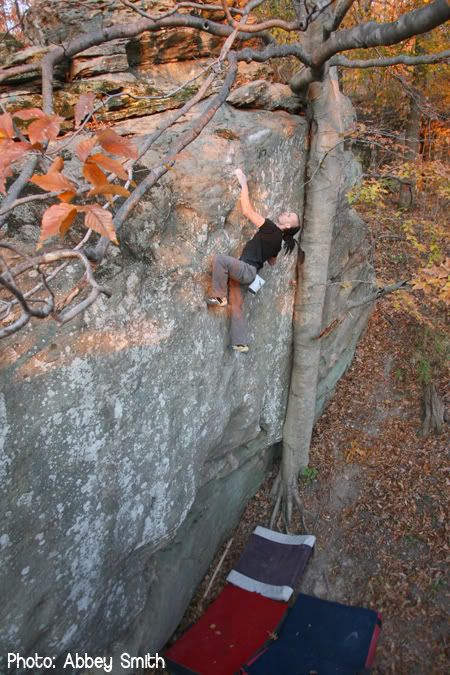 Kings High- Holy Boulders, Illinois -2008
I spent a little over a month in So iLL that year showing Abbey Smith the classics. This problem is located directly behind The Jungle Book.  With the crux at the top and a super slopey landing this is not one you want to be falling on repeatedly. Kings High is what we shouted during our nightly poker games with Dave Chancellor.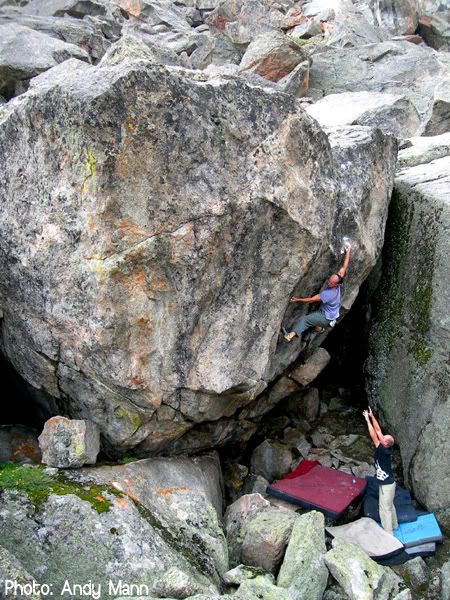 Last Dance- Mt Evans, Colorado -2007
I named this one The Last Dance because after I sent the problem, I was asked to do this move one more time for another photo. I agreed, but didnt take the move as seriously as I  did during the send. I missed the move, missed the red pad and blew my knee out for probably the 8th time. The hour and a half hike out from Area B was sobering and I wondered if I would ever dance again. The footage was featured in the film: Rocky Mountain Highball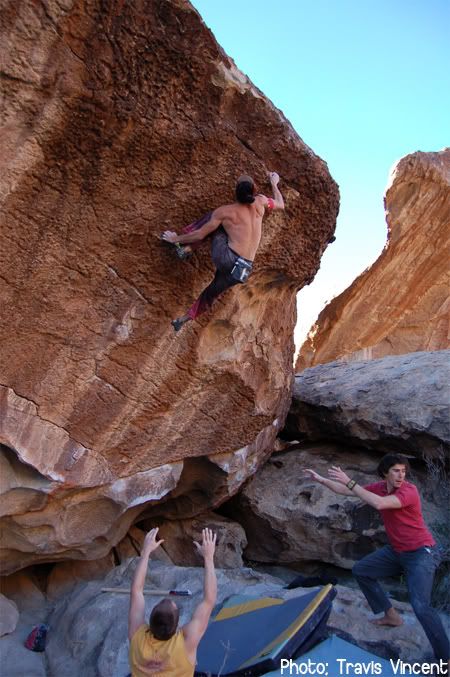 Rules of Chaos- Hueco Tanks, Texas -2006
The guy in the red shirt is Andre, he is backing up because Im about to throw for the lip and blow it, flying over his head and landing in the bush. Luckily, I stuck the move next go.  Maybe he should consider proper spotting footwear next time?                       Here is a short video of the problem.
Black Magic- Albarracin, Spain -2006
I did this problem during the filming of Dosage5
Its a perfect dyno on beautiful black rock with a highball finish. It wasent in the film because I sent it while Brett was taking this photo. I think he said- "I didn't think you were gonna do it first try."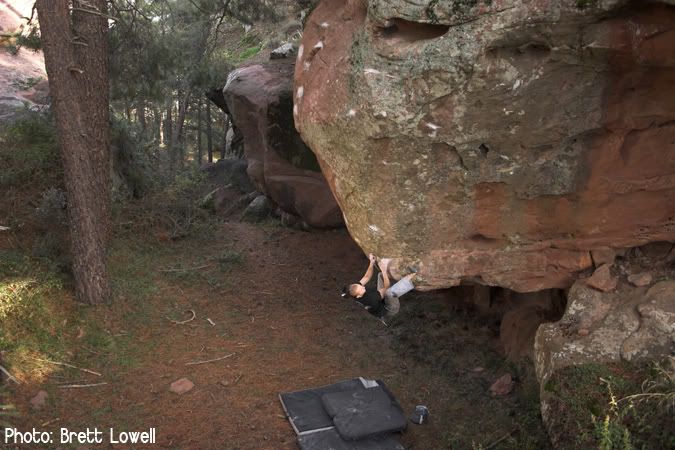 Revenge- Albarracin, Spain -2006
I named this one Revenge because thats what I needed after falling off somewhere near that black pod at the top of the boulder. It was quite jarring and I didnt really wanna go back up there. You can see the problem featured in Big Ups Dosage 5.               Watch a teaser for Albarracin Dose.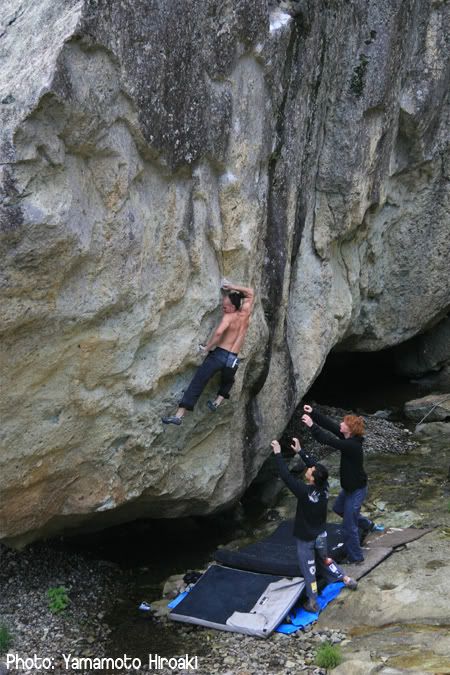 Nevermore- Shiobara, Japan -2006
I was fortunate enough on this trip to climb with the great Japanese master Yuji Hirayama.  I was initially a little intimidated, but he taught me a great lesson. Never be too proud to learn from others, no matter who you are, you can always learn from other people. We enjoyed learning from each other on this problem and he did the second ascent after me.  Footage of this problem can be found on the Big in Japan DVD.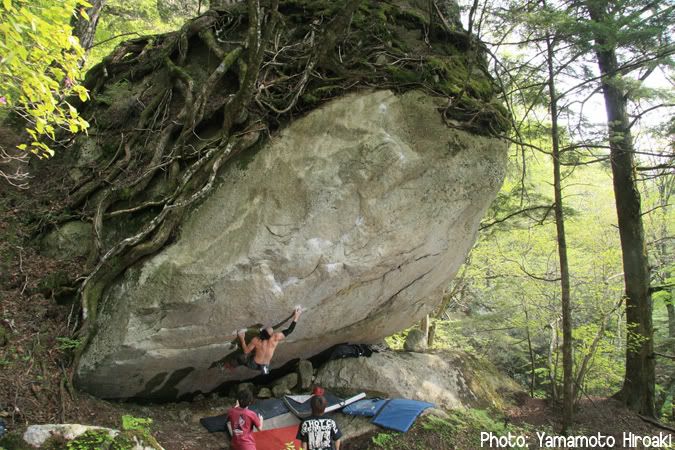 Kumite- Mizugaki, Japan -2006
This is for sure one of the most striking boulders I have ever walked up on in my life.          We were climbing about  a hundred feet down the hill on some established problems and I decided to walk up the hill and find this. I had heard that one of the Masters from the region had cleaned it but was never able to climb it. We sought him out and he eventually granted me permission to try the line. I was honored to have the opportunity to establish a beautiful line in an amazing country. Footage of this problem can be found on the Big in Japan DVD.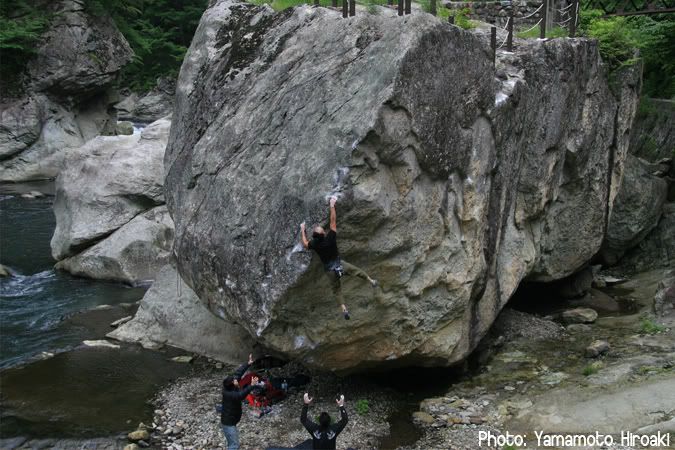 Long Day- Shiobara, Japan -2006
This was the last problem I established on my trip to Japan. I had been traveling, climbing and filming for three weeks straight. Long Day refers to the overall exhaustion on a trip like that. This was a super fun arete that had not been tried. The day was long, but one of the  best trips of my life. Footage of this problem can be found on the Big in Japan DVD.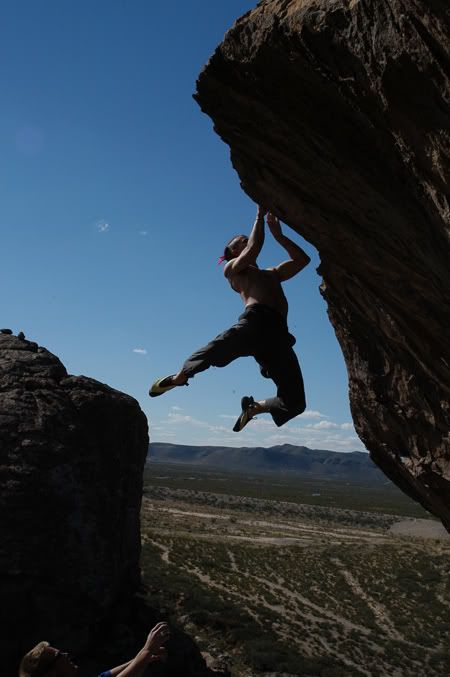 Eternal Darkness of the American Mind- Hueco Tanks, Texas -2005
This problem is located on the Mojo Boulder on East Mountain. There is a great warm up to the left of it "Mo Flow" that rarely gets done, because it feels like your going to fall of the edge of the cliff. But thats just a feeling… and one of the things that attracted me to it.   Here is a short video of the problem.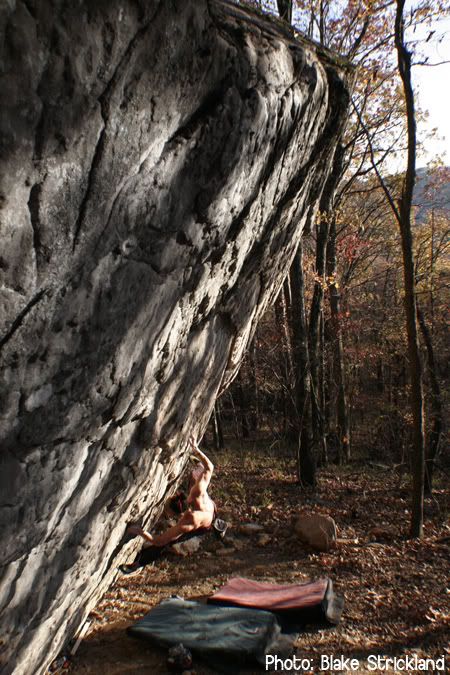 Bloody Knuckles- Horseshoe Canyon, Arkansas -2005
The Knuckles wall was shown to me by Blake Strickland, he said the was this huge overhanging wall with underclings all the way up it, and boy was he right. There are several fun problems on this boulder, but this one would have to be my favorite.
Animal Magnetism- Squamish, Canada -2005
This route was originally bolted by Jim Sanford in 1992, you can see the chains in the two white steaks at the top. The crew I was rolling with(Jeremy Smith, Andrew Boyd, Justin Wood and Matt Segal) were super psyched on bold ground up ascents. This was one of the first times I remember employing the fireman style catch, where the two spotters hold a crashpad in the air to redirect the climbers fall. The blue thing in the tree to the right is a bowling bag we used to cover a big spike pointing at the climber. We had a fun session on it this day.  Here is a cool blog by Sonnie Trotter about the problem.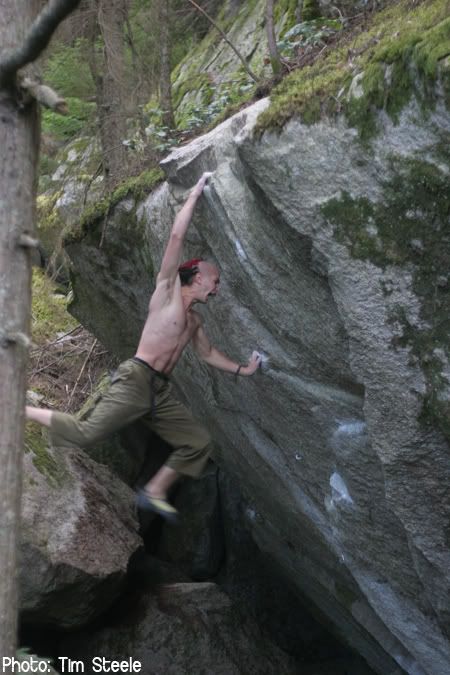 Straight out of Squampton- Squamish, Canada -2005
This was another "first bouldering ascent" and second actual ascent.(you can see the bolts on the wall) I was first showed this problem by the first ascensionist, Jeremy Smith in the summer of 2005. My first impression was-your crazy man! After several visits back, I was convinced it could be possible. Because the route had been established, we chose to take a ground up approach. You cant really tell from the photo, but thats the crux and its about 20+ft up on this huge granite block. I was lucky enough to pull it off that summer on the last day of my trip. Jeremy stuck with it and finished it up the following season. I wrote a short piece on the mental preparation for an ascent like this in Arno Ilger's Warriors Way book- Espresso Lessons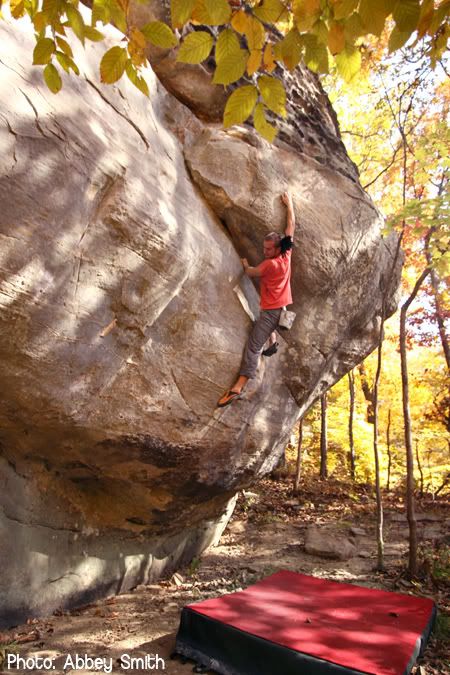 Crooked Master- Holy Boulders, Illinois -2004
The holds on this problem are pretty much non existent, but that didn't stop us from trying to get up this perfect sandstone bulge. Hard climbing leads to a glory finish on sinker jugs. This boulder is surrounded by great problems on some of the best stone in the Holy Boulders.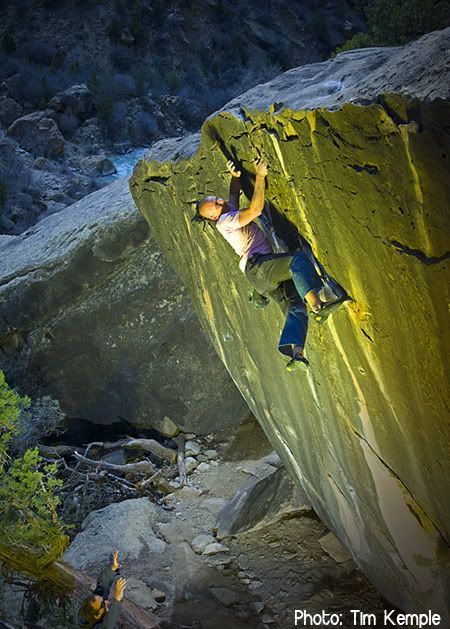 The Wind Below- Joes Valley, Utah -2004
The rock in Joes Valley is some of my favorite in the world. Beautiful streaked walls of black and tan, perfect sandstone, free camping next to a river. I think I could live here forever. The Wind Below is exactly what you feel when your in the crux on this one. Its also the name of a Rage Against the Machine song.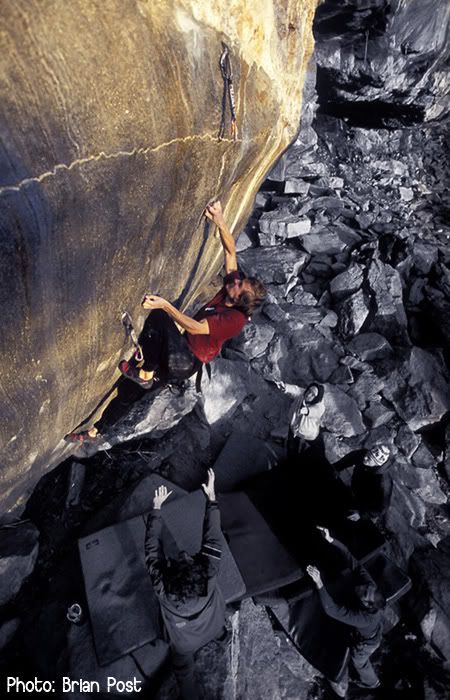 The Fly- Rumney, New Hampshire -2003
This "route" was first established by Dave Graham in 2001. I was living in the northeast at the time when I heard about it. I travelled to Rumney to check it out and I was confused as to why someone would put two bolts into one of the coolest boulder problems I had seen. From that point on it had become my goal to boulder or "solo" this route with out a rope. Two years later I finally committed to living there for a month in my van. I rehearsed it alone at night(when the temps were best) with a static line and a gri gri, until the day I felt comfortable to try it without a rope. I never sent it with a rope, just worked the moves. The day I sent, I remember I was wearing ninja pants and Joe Kinder and his friends came to spot. A truly unforgettable experience on some of the best stone I have ever climbed.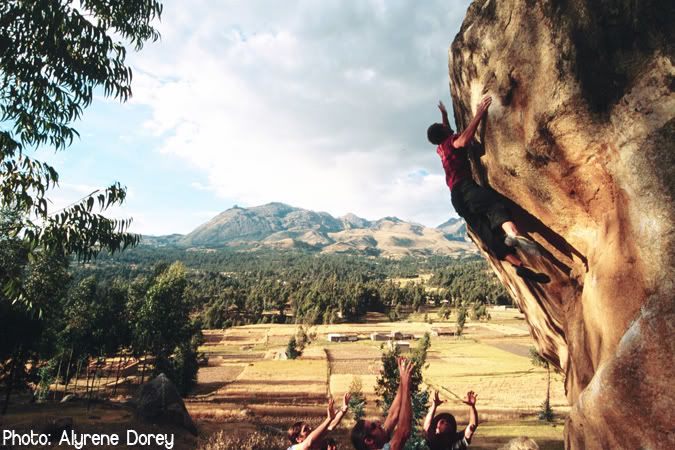 Huanchauk Dyno- Huaraz, Peru -2003
I spent a month in Peru that summer looking for new granite boulder to establish below the Cordillera Blanca. The was my first experience searching for boulders in an alpine setting. This problem was located near the village of Huanchauk. One of the more commiting dynos I have done, in that you only have a bad sloper for your right hand. You have to trust it and then leap to the lip of the boulder.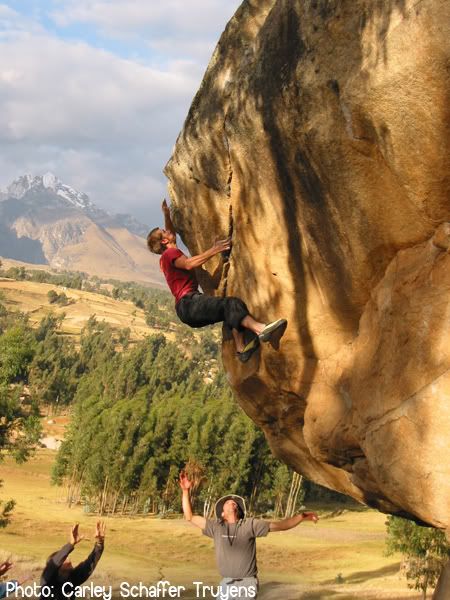 Sendero Luminoso- Huaraz, Peru -2003
The Sendero Luminoso or Shining Path is a Maoist insurgent guerrilla organization in Peru. I found it fitting since I had to use some "gorilla tactics" of my own to get up this thing.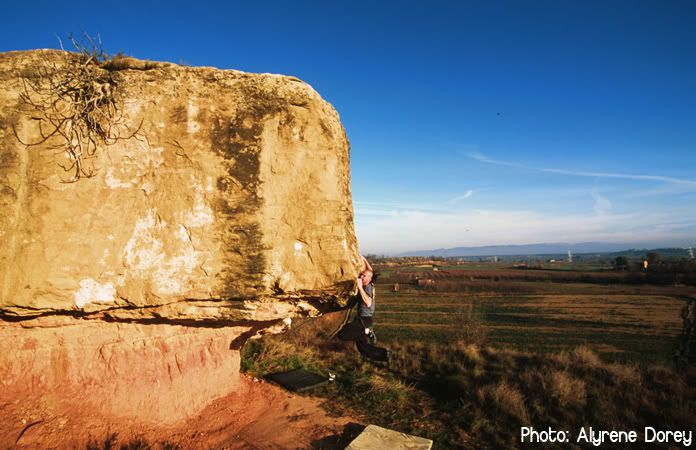 Password- Torrefarrea, Spain -2003
This problem is located ten minutes from my Sensei Jordi Salas's home. It is one boulder out in the middle of the farm lands. Jordi named this one because he had been trying it for a while, then I came along with the password.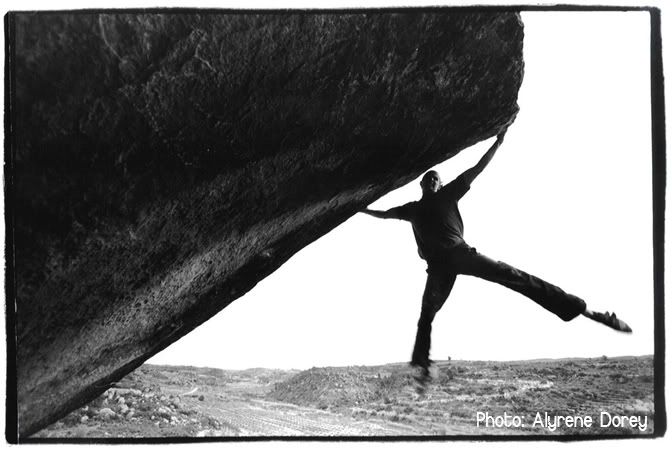 Beer Aktion- El Cogul, Spain -2003
 Awesome slopey rails that lead to a dynamic throw to the other arete, with a great                     compression finish. This has become one of the classics at El Cogul,                  Catalan for The Cogul.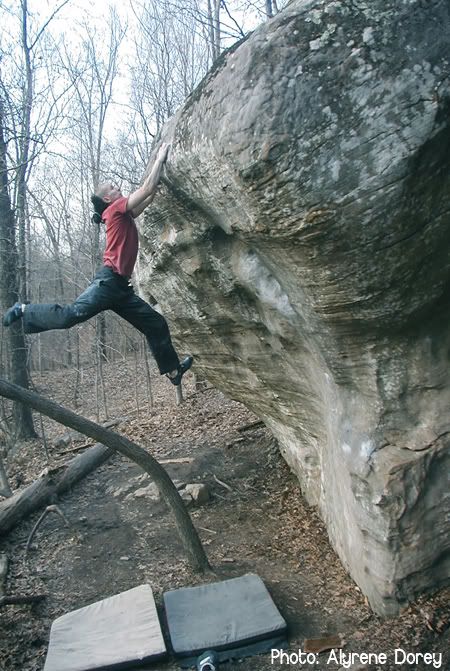 The New Zero- Holy Boulders, Illinois -2003
This is probably one of the best looking pieces of rock I've ever stumbled upon. Perfect sandstone slopers, with just enough features to get tp the top. David Chancellor first showed me this problem on my first trip to So iLL to film Dosage2. The project was dubbed "Fat Sloper Action" and finally went down after falling from the last move, repeatedly, two seasons in a row. You can watch this problem in the extras from The Road.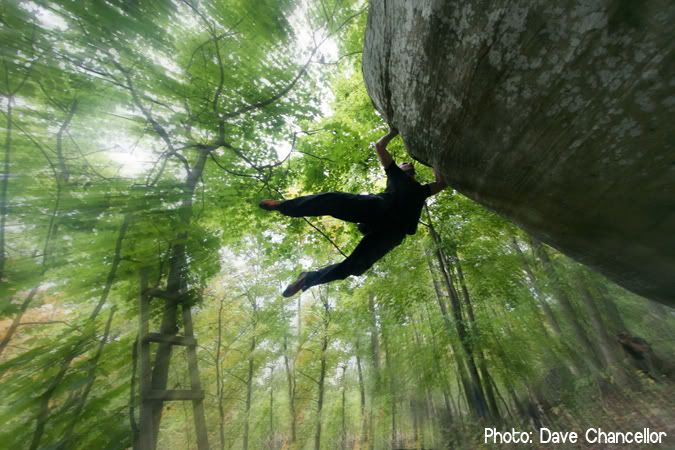 Jungle Book- Holy Boulders, Illinois -2003
The Jungle Book is located on the same wall as the New Zero and is the first problem I established in Southern Illinois. The best part about this problem, is this move where you have to cut your feet, control a crazy swing and then deal with the sloping sandstone top out. The bouldering at the Holy Boulders is the closest thing Iv'e found is the US that could be compared to the immaculate stone of Fontainebleau, France.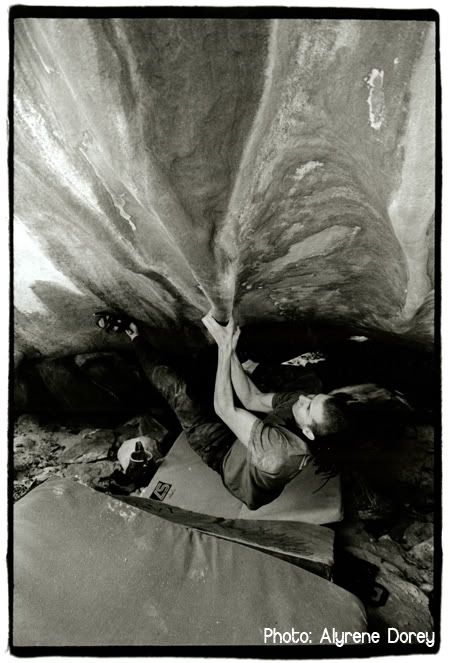 The Worm Turns- Joes Valley, Utah -2002
I was first showed this feature by Jared Roth back in 2003, the wall was cover in a thick layer of salt dust. The problem ended up being a lot harder than it looked and it kicked our asses pretty good on the first session. I was able to come back and do it a couple of days later. Definitely one of the coolest features I have ever climbed on!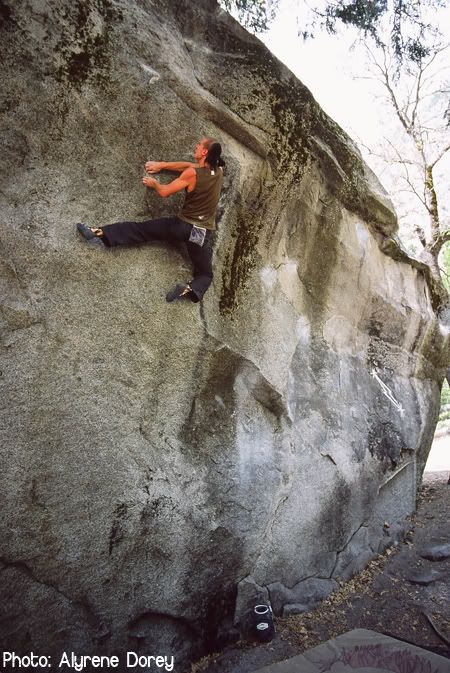 After Midnight- Yosemite, California -2002
This climb was established by Jerry Moffatt 1993 using a top rope. When I visited Yosemite in 2002, I decided the line deserved a little more respect than that. After all, it shares the start with the most famous problem in the world: Midnight Lightning.  Super technical climbing leads to a crux at about 20 feet. The sad thing is, the ethics were different back then, and some of the holds were reinforced with glue. I think we have all come to realize this is not acceptable.
Evilution- Bishop, California -2002
This was the problem that started it all.  When I think of the perfect boulder, this is the only one that comes to mind. A gigantic egg like boulder on a hillside, with snowy mountains in the background. I dont know If I will ever find another problem to rival this one. When I stood on the top of this boulder I truly understood that anything is possible.  Watch the first ascent here.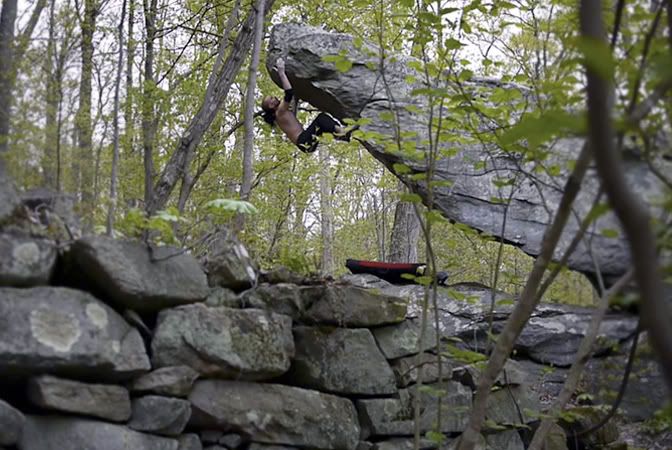 Moby Dick- Rock State Park, Maryland -1999
This was one of the first problems I ever established.
The area was 15 minutes from where I grew up. I worked this problem with Matt Bosley and Francis Sanzaro back in the day. The stand was the classic problem of the area, but we wanted to start all the way down and left, resulting in a amazing compression line. Several years later I also climbed the right arete from the sit: Breaking the Silence.     Watch the exclusive footage on Dead Point Mag.